Important Events of the 1980's
1980 -July 1
"O Canada" Becomes National Anthem
July 1st, 1980 was when it was decided that O Canada would become our country's national anthem. The lyrics were written by Robert Stanley Weir, and the music was composed by Calixa Lavallee. Since then, when it was first written and revised in 1908, there have been many lyric changes and tune compromises. The anthem of course comes in many different languages. The song turned out to be the latest song we all know and love in Canada.
1980
The Marathon of Hope
Terry Fox began the Marathon of Hope run across Canada, in hopes of raising money for cancer research. With one leg amputated, this was a struggle for Fox. Still, he continued his marathon till he reached Thunder Bay, where he unfortunately had to stop because his cancer had spread to his lungs. He raised $24.17 million before stopping.
1981
The Discovery of AIDS 
AIDS Stands for Aqcuired Immune Syndrome, and when it was identified it was considered to be a great discovery. This allowed us to identify and help treat it. As well, doctors are now working towards a cure.
1982  -June 28
Canada Remembers Igor Gouzenko
Igor Gouzenko, the famous writer clerk for the Soviet Embassy to Canada in Ottawa died. He was well known for ratting out Joseph Stalin's (Premier of the Soviet Union) efforts to steal nuclear secrets from the country, and his then-unknown technique of sleeper agents- agents planted in the enemy country to access info. This event can be referred to as the "Gouzenko Affair", and some said it triggered the Cold War. In interviews, Igor wore a white head slip to stay anonymous for his safety. Afterwards, there were many books and even a movie made about the international affair. At first, the Canadian government did not believe Igor, but eventually and thankfully, they did. 
1983 -June 18
First Woman in Space
In 1983, an American woman named Sally Ride boarded the Challenger space shuttle and became the first woman in space. Millions watched worldwide to see her take off, not once but twice into space, (the second time in 1984). Today, Sally Ride is on the faculty board, working at the University of California. She is also head of the California Space Institute. Ride has a famous quote, "Our future lies with today's kids and tomorrow's space exploration". 
1988 
The Olympics- Calgary
A record breaking 1750 athletes from 57 nations came to Western Canada for the first Winter Olympics north of America. In the games, there was indoor speed skating oval and sporadic chinook winds that sent temperatures into the warm 70s. Finland man Matti Nykänen became the first to capture 3 titles, winning gold in 70 and 90 meters, and adding a third in the new jumping team competition. Michael Edwards had the honor of being the most decorated jumper in Calgary. Dutch speed skater Yvonne van Gennip won 3 gold metals, East German woman figure skater Katarina Witt won her second straight women's title, and the USSR beat East Germany in both gold and overall medals in the last winterized confrontation of Communist superpowers. During these games Canada unfortunately won no gold, however two silver and three bronze medals. This was a great multicultural event for Canada to show off it's beautiful land and to nicely compete with other countries.
1989
Free Trade Agreement
For three Canada had debated about free trade. In 1988 Brian Mulroney and the Conservatives were re-elected. Mulroney stated that his election victory displayed that majority of Canadians supported the Free Trade Agreement (FTA). It later came into effect, in 1989.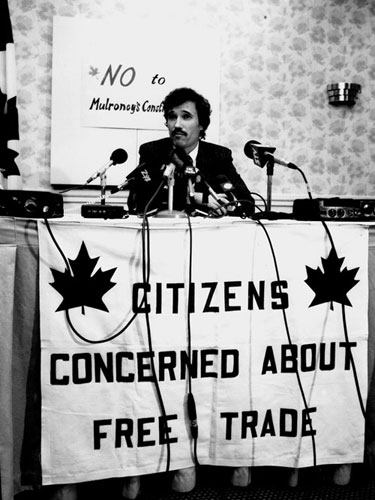 1989 -December 6
The Montreal Massacre
At the Ecole Polytechnique in Montreal Quebec, a 25 year old man, Marc Lepine, was armed with a gun and hunting knife had shot 28 people, before killing himself. In a classroom is where he started; he separated the men from the women (students), and shot and killed six women, claiming he was "fighting feminism". He continued through classrooms in the school, overall killing 14 women, as well as 4 men. He then killed himself. It was said that Lepine was abused at home, by his father. This tragic event caught the attention of all of Canada, and even had a movie based on the events, Polytechnique. The film sparked lots of controversy.
Film poster for "Polytechnique".
1989 -December 22
The Berlin Wall is Taken Down
Before, there was no way to cross the east and west sides of Berlin. When the Berlin Wall was put up in August 31, 1961, people were outraged when there was no entering or leaving the borders. It was put up during the Cold War to separate Germany. People lost family and friends on opposite sides. Thankfully, it was taken down in 1989, followed by many celebrations.
Inventions:
A variety of inventions were made in the 80's that have contributed to our inventions today. Some of many inventions include:
1980- Compact Disk (CDs), by Sony
1980- Hepatitis B Vaccine
1983- Cabbage Patch Kids
1984- Apple Macintosh
1987- The First 3D Video Game (Master Maze)
1987- Disposable Contact Lenses
1988- Digital Cell Phones
1989- High Def. TV
Clothing & Accessories
Well-seen clothing & accessories of the 1980's included Ray-Ban sunglasses, Reebok shoes in all sorts of colours, neon clothing, power suits (women), many layers of socks, bracelets, pegged pants (with a specific way of folding the bottom of their pants), and swatch watches (plastic little watches). Lots of colours and variety of style to be seen in the 80s!
Fads
BIG Hair was women's choice of hairstyle in the 80's, as well as bold eyeshadow such as baby blue, purple, pink, etc. Then of course there was the famous Michael Jackson red leather jacket, and white glove to pull off the pop star's look. Teens also wore air-brush shirts, usually with their mate's name on them. Spandex was seen all over, and big clocks as well.